Is it okay to take naps at work?
We've all had those days when, we're on the clock and we're exhausted, and we desperately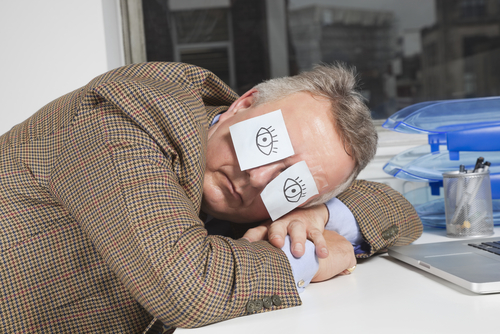 want a quick power nap. But do we dare? In many companies, napping is still frowned upon but a few progressive companies (such as Google) encourage napping as a way to boost productivity.
Since most people work a little more than 9 hours a day, it's natural to become sleepy during the day. Your circadian rhythms ensure that you have two periods of extreme sleepiness during a 24-hour period: once in the middle of the night, around midnight; and the other, 12 hours later – right around lunchtime.
So do the Mediterranean nations, where a siesta is a treasured part of the culture, have it right? You bet they do! Trying to keep productivity high when you're sleep-deprived is a losing proposition. Sleepiness only results in poor work, slow work and a bad attitude – how often have you seen a cheerful, exhausted person? Not often, right? Usually they are grumpy and disagreeable and who wants to work with people when they're like that?
James Maas, Ph.D., former fellow, professor and chairman of psychology at Cornell University, coined the term "power nap" in 1998.
So how can you power-nap at work, especially if it's frowned-upon?
Here's how to nap effectively at work, and boost your productivity:
1. Take advantage of mandated breaks and lunch breaks
Every employer must, by law (at least in the USA), give a worker two 15-minute breaks during the day – exactly enough time for a quick nap. What you do during those breaks should be of no concern to the employer, and if it is, they should be reminded of your right to the break and to relax as you see fit. If your employer will not tolerate napping in the office or workplace, be discreet. Take a walk during your break or lunch hour and go hide out somewhere (even in your car or a storage room) for a quick snooze.
2. Find a quiet place
That's not always easy, but you can use earplugs to tune out the hustle and bustle around you. If you have the luxury of an office where you can shut the door and dim the lights, great. You can also use your favorite Omharmonics soundtrack to help you relax and to tune out distractions.
3. Keep naps super short
10-15 minutes at the maximum, to help you take the edge off but keep you from being groggy for the rest of the afternoon – naps longer than 30 minutes get you into very deep sleep that is extremely difficult to rouse yourself from. Set a timer and don't give in to the urge to snooze longer! Napping longer will also interfere with your nighttime sleep. A quick power nap/cat nap is all you need!
4. Don't get too comfortable
You can easily nap at your desk if you're really tired, and if you're not "that" tired (napping seems like a good idea but your eyelids haven't started to droop yet), you can substitute a brisk walk for the nap to get your blood flowing again and energize yourself.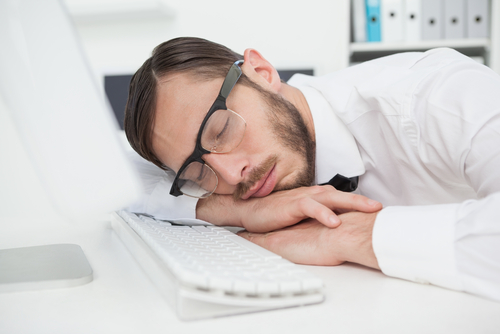 5. Meditation
Use meditation to de-stress and have more quality sleep at night, if the urge to nap during the day is becoming too intense. Well-rested people don't need to nap so if you're up at night worrying about something, make sure you meditate every day. Meditation is so relaxing that you might doze off, and that's okay (obviously you need the rest).
6. If napping simply isn't an option, go for a brisk walk.
Get your heart rate up, even break a little sweat, and you'll rev up your metabolism very effectively.
7. Coffee
One study suggests that having a cup of coffee and THEN napping right away, will leave you fully awake and energized when you rouse yourself. It takes about 10-20 minutes for the caffeine to kick in, so by the time your alarm goes off and you wake up, you're not only rested but have the extra boost from caffeine. Word of caution: too much caffeine WILL interfere with your nighttime sleep so be judicious in how much you consume… really listen to your body!
In the industrialized work culture, sleep is seen as a luxury and sleeping while "on the clock" is frowned upon. However, enough sleep is a necessity and if you're not getting enough quality sleep at night, you really must find a way to reduce the sleep deficit. One way is by napping. You can also use de-stressing techniques like exercise and meditation to promote good nighttime sleep.
Whether your boss is okay with employee naps or not, your boss will have to agree that a well-rested you is a more productive, cheerful and efficient you! When talking to your boss about naps, be sure to show him or her this article 
This article was featured in Omharmonics. You can find it here.